Doggy Day Care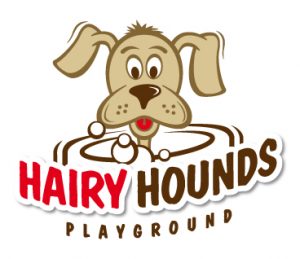 Doggy Day Care
Doggy Day Care has been designed as a safe place for your dog to socialise, to learn to play politely, make friends and learn basic manners such as recall, sit and name recognition.
Your dog will be fully supervised with at least one carer in each area with them at all times.
Our carers will supervise and reward appropriate play, behaviours and manners. We have play equipment, toys and desensitisation sessions that will help your dogs to explore, learn and gain confidence, as well as life skills that will help them outside in the their every day lives.
First Day – What to Expect
Please check out our first day handout -First Day Dog Info
On your first day, please arrive as early as possible, as close to 7am as you can to ensure we settle your dog nice and early. (first day arrivals should be between 7.00am – 8.30am)
Because your paperwork (online registration and vaccination sighting) will have been completed prior to your first day, we will ask you to say a quick and calm 'see-ya' to your dog so that we can get your dogs first fun day started. Don't worry, we know it's emotional for parents. Don't forget, your dogs feel your fear and anxiety and worry when you worry – we're hear to help and make your letting go as easy as possible.
Only dogs on a special diet, pups under 16 weeks or underweight dogs should be sent in with food. If they do require a meal, please ensure that it is labelled clearly in a non glass container / ziplock.
If your dog has food allergies please ensure you tell us / remind us.
Winter – by all means, send your dog in with their winter jacket or jumper, but please remember that dogs play and jumpers may not go home in the same condition, so an inexpensive jumper is best.
Please note that we do require a commitment of sorts from parents to visit us for doggy day care regularly (once a fortnight is ok). Dogs who visit once or twice a year, or only every few weeks or months are forced to have their first day with strange people and strange dogs, all over again. The first day of doggy day care can be stressful, even the calmest of dogs experience some form of anxiety. Picture your first day of work or school – remember the butterflies and the stress of learning and remembering the new rules? If you can't commit to a regular visit then we would suggest our solo walking services which will give your dog exercise, interaction with our carer and mental stimulation.
NOTE – soggy doggy's – Please remember that we are providing a play centre for dogs, they may get wet, dirty or muddy. We are an outdoor facility and although we will endeavour to send your dog home clean, there will be times where the water from paddle pools, our cooling sprinklers and the rain may cause extra soggy dogs. Your dog will be towel dried before we hand them over to their parents. Dogs are allowed to be dogs at Hairy Hounds Playground however we understand that an indoor facility may be better suited to your needs – please consider your options before visiting our wonderfully dog-friendly day care centre.
NOTE – Please ensure you read our poster explaining kennel cough and the symptoms of KC.
If you have additional questions, feel free to visit our FAQ's at https://www.hairyhounds.com.au/faqs/
You can visit your happy snaps each visit at https://www.facebook.com/hairyhoundscommunity
If your dog wakes up the morning of your day care and isn't feeling the best (has the squirts, snotty eyes or a cough) please leave them to rest at home – we'd prefer to keep everyone safe and healthy 🙂
Cost – Prices Effective 4th July 2022
3 Hour Pop-In or Intro Session
3 Hour Session
3 Hours - 5 Days (1)
Need to go shopping and don't want to leave your dog at home? Why not do a pop in session, go shopping AND have a coffee!!
1 Dog
$39.50
$175.00
2 Dogs
$65.50
$290.00
3 Dogs
$89.50
$355.00
| # Dogs | 3 Hours | ½ Day – 6 Hours | Full Day – 12 Hours | 11 Day - Full Day - Pass (1) | 11 Day - 1/2 Day - Pass (1) | 22 Day Pass (2) | 22 Day - 1/2 Day - Pass (2) |
| --- | --- | --- | --- | --- | --- | --- | --- |
| 1 Dog | $30.50 | $50.00 | $65.00 | $666.50 | $501.00 | $1333.00 | $1001.00 |
| 2 Dogs | $65.50 | $89.50 | $115.50 | $1197 | $906.00 | $2337.00 | $1197.00 |
| 3 Dogs | $86.00 | $125.00 | $162.00 | $1678.50 | $1228.00 | $3144.00 | $1678.50 |
| 4 Dogs | | | | | | | |
Dogs-Special offers 5 passes
SPECIAL OFFER: 5 Passes!
5 ½ Day Pass(3)
5 Full Day Pass (3)
1 Dog
$210.00
$272.00
2 Dogs
$385.00
$493.00
3 Dogs
$554.00
$628.00
1 – 11 visit passes are valid for 3 months from the date of purchase.
2 – 22 visit passes are valid for 5 months from the date of purchase.
3 – Special offer passes must be used within the month of purchase, e.g. 20th Nov – 19th Aug.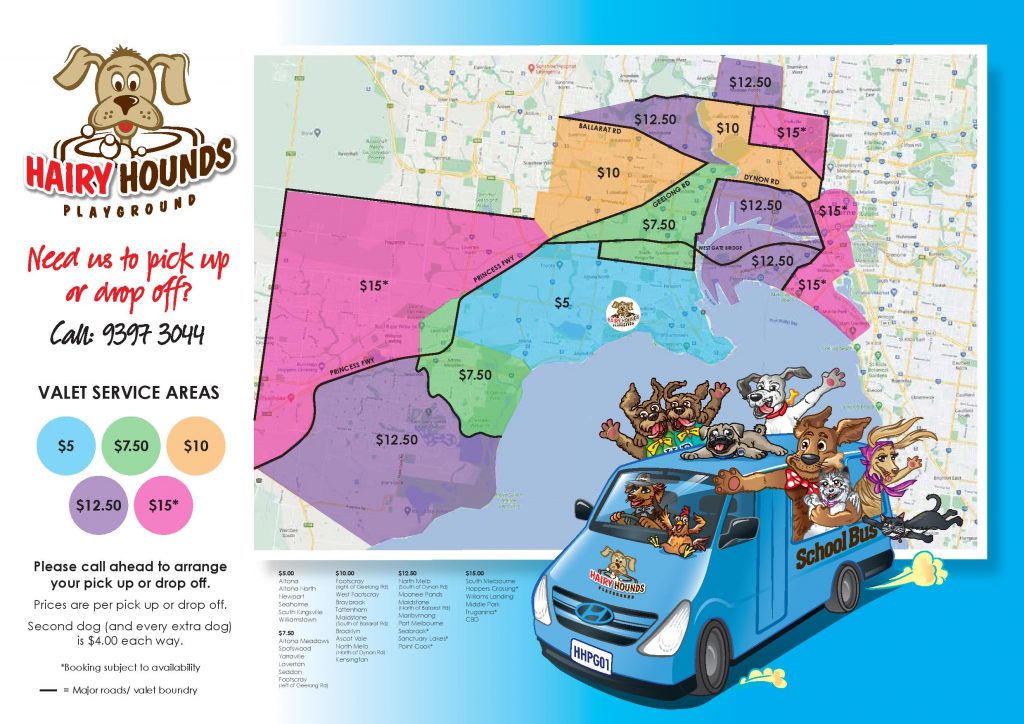 Valet Service
Hairy Hounds Playground offers a valet service with morning pick up, evening drop off – or both – for your convenience. Valet service areas and pricing are indicated on the map below. Click on the image for a larger view.
We offer a valet service to Albert Park, Altona, Altona Meadows, Altona North, Ascot Vale, Braybrook, CBD, Docklands, Flemington, Footscray, Kensington, Kingsville, Maidstone, Maribyrnong, Middle Park, Moonee Ponds, Newport, North Melbourne, Port Melbourne, Seddon, South Bank, South Kingsville and South Melbourne
** We ask for a window of a 1 hour time frame when booking your valet time. Please advise us of the time that you need to leave and we'll be there (traffic dependent!). Although many owners need to be home as they live in apartments, we can also access your dog through an unlocked gate or we can safely hold on to a key.